Responsive layout
JS Jobs is practically essential after all: same design for desktop, smartphones and tablets.
Perfect For All Sizes
No matter the size of your screen or device, your site will look fantastic.
Job Shortlist
Job seeker has the option to shortlist his favorite jobs, So he can apply on them whenever he wants.
Shortlist Favorite Jobs
Job seeker has the option to shortlist his favorite jobs, So he can apply on them whenever he wants.
Easy to use
JS Jobs has been built on the basis of latest trend, so your users will feel familiar with the way it works.
user friendly
JS Jobs is very user friendly and simple. It does not require any technical skills for user to work with it.
Job Alert
Job seeker subscribes job alert with certain criteria to get email for new jobs that fullfill his specified criteria.
Send Jobs In Job Seeker Email
Send job seeker desire job to his email address with job alert feature.
Visitor can apply job
No need to register to apply on any job. JS Jobs offers, visitor can apply on any job with his complete details.
Visitor apply on job
Visitor can click on apply now button and fill out resume form using which he can apply on job.
Themes
Now admin can easily change JS Jobs color using color picker. Tool give live preview of changes.
Adjust Colors
Adjust your JS Jobs colors with your theme colors with few clicks.

The most comprehensive and easiest job board for WordPress
JS Jobs fully accommodates job seekers and employers.
Multiple color options
You can customize the color layout for the JS Jobs. You can either select colors from a color pallet table or select the predefined set.
You can select a color from the pallet for each of the following areas:
Color 1, which is the top menu heading background.
Color 2, which is the top header line color, button hover, heading text.
Color 3, which is the content background color.
Color 4, which is the content text color.
Color 5, which is the border color, lines.
Color 6, which is the button color.
Color 7, which is the top header text color.
Color 8, which is the top header text color.
After changing the theme colors and saving the changes, the cache will need to be flushed to have the changes take effect.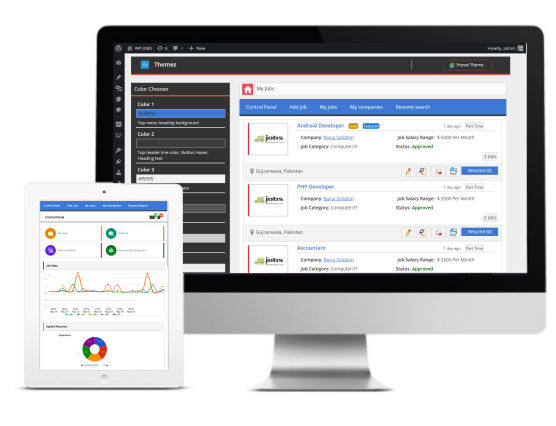 Register & Login
JS Jobs have it own user registration and login forms. No neet to use any third party register plugin for user register.
With forms that allow your users to signup and login without ever leaving your main site, you provide a much more consistent and comfortable environment.
It provide that next level of integration that really makes your site zing.
If user hesitate to register, don't worry about it, JS Jobs offer social login to these user.
JS Jobs also offer social login of these popular social sites.
– Facebook
– Linkedin
– Xing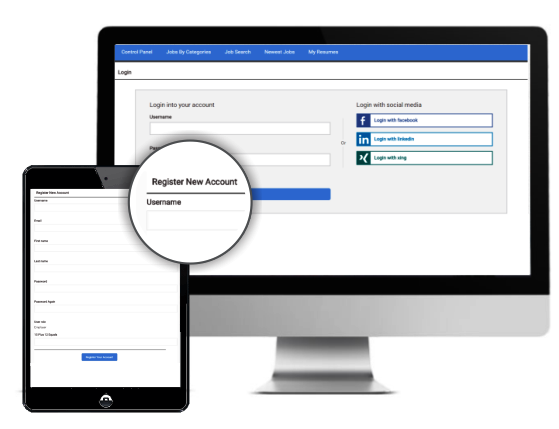 Applied Resume
JS Jobs give more power to employer on applied resume.
Nowdays employer receive lot of resume for his jobs. Some of them relevant and some are not.
JS Jobs handle this problem with filter and give usefull options to employer.
Employer can add filter on his job on base of category, education, gender & location
Admin move resume to any of these tabs just by click
– Inbox
– Shortlisted
– Spam
– Hired
– Rejected
It help employer to find best candidate for his job.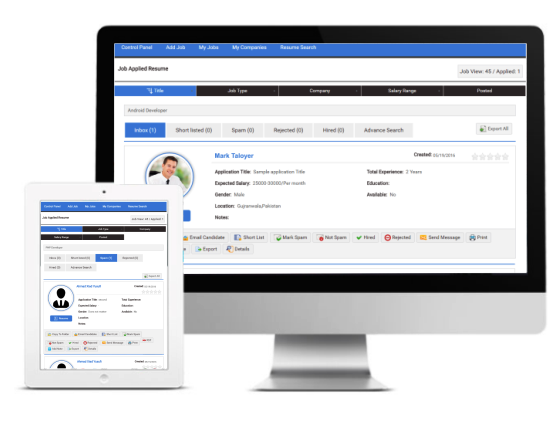 Credit System
JS Jobs implement credit sytem to control employer and job seeker options.
Admin create package for employer and job seeker with cost and credits.
Users buy credit packs defined by admin using paypal or woocommrece.
Admin can define credit(cost) for diffrent actions like
– Add Company, Gold Company, Featuerd Company,
– Add Job, Gold Job, Featuerd Job,
– Add Resume, Gold Resume, Featuerd Resume
– Add Department, Add Cover Letter,Saving Job Search Filter, Saving Resume Search Filter,
– Job Alert, Viewing Company Contact details, Viewing Resume Contact details
Whenever user perform any of the those actions, he/she will be charged for his action.
Admin can define multiple costs for same action with diffrent expires.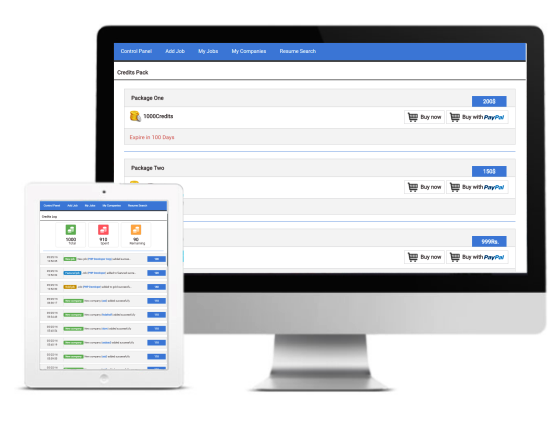 Reports
Reports are very essentials for admin to know, what going on his system.
JS Jobs have these reports
– Total companies, job, resume & applied resume
– Active jobs, applied jobs, gold jobs & featured jobs
– Active resume, gold resume & featured resume
– By Categories (companies, jobs &resume)
– By Cities (companies, jobs &resume)
– By Types (companies, jobs &resume)
– Jobs by Companies
– Resume by education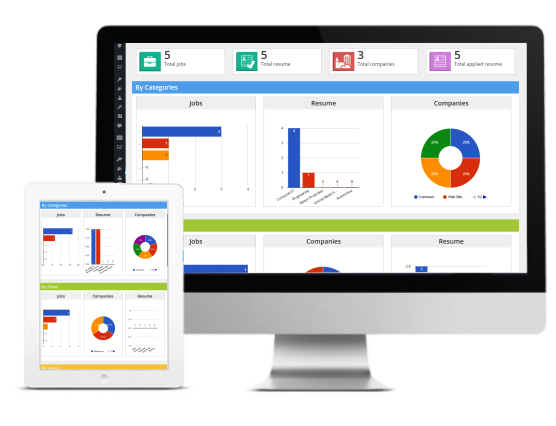 Get the wordpress most easiest and complete job board
JS Jobs fully accommodates job seekers and employers.
Js jobs offer six action to employer/admin on applied resume to manage resume easily.
Admin/Employer can Shortlist Hired Reject Markspam copy to folder and print to resume.Employer can rate the resume with his comments for himself, it help employer to shortlist candidates.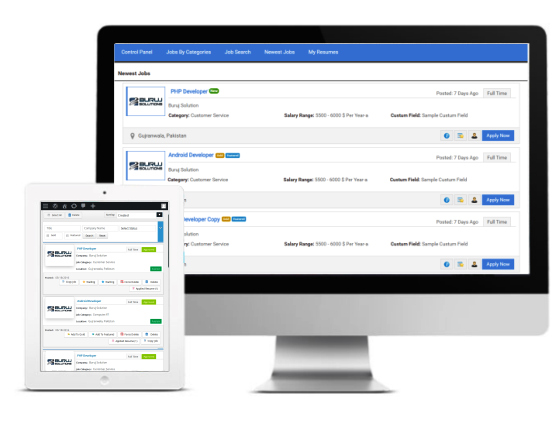 JS Jobs offer best features
JS Jobs for any business, industry body or staffing company wishing to establish a presence on the internet where employer/company post a job, candidates come to view the latest jobs and apply to them.
JS Jobs allows you to run your own, unique jobs classifieds service where you or employer can advertise their jobs and job seekers can upload their Resumes.
JS Jobs offer very rich features i.e responsive layout, visitor can add job, visitor can apply job, mark job as gold/featured, tell a friend, package system with payment, message system between employer and job seeker, themes, multi-language, RSS, custom fields, email templates and much more.

Js Jobs is everything you need to create an awesome website!
The #1 selling HTML site Template on themeforest
Buy Now!